Mainframes need DevOps too
DevOps was originally aimed at distributed environments. Over the last decade, however, its principles have also been adopted for application development on IBM mainframes.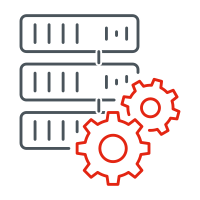 With some of the most experienced and qualified consultants in the industry, Triton have been at the forefront of applying DevOps tools and process to the mainframe platform and managing culture change to keep the mainframe a first-class citizen in the IT landscape.
When people talk about mainframes, they often use words like 'heritage', 'legacy' or 'cherished'. The implication is that mainframes aren't as modern as Linux systems, so it's best to leave them 'as is'.
We think mainframes still have a lot to give. They're resilient, scalable and secure, and offer solid availability too.
For many firms, the mainframe is the 'engine room' of transactions and data processing. Mainframe still accounts for 90% of the Fortune 500's core systems, and IBM says 75% of the top 20 global banks are running its newest z15 mainframe.
Your mainframe has potential – and DevOps can help you realise it. By adopting DevOps, you can boost innovation, quality and speed while cutting costs and risks.
No wonder that in BMC's 2020 Mainframe Survey, 77% of respondents said they were using DevOps, and 56% said they were using DevOps on the mainframe. Firms are getting real benefits from DevOps – and you can join them.
Get Started

To talk to our expert team about how DevOps could help you get more from your mainframe, contact us now.