Db2 Database Version Upgrades
Software upgrade support and implementation services for Db2 z/OS and Db2 LUW platforms.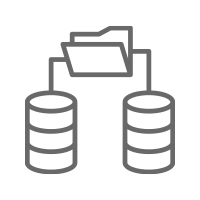 Technology is fast-paced and constantly evolving. Upgrading to new Db2 software versions enables your organisation to keep up with the latest features, performance, and security enhancements that are critical for organisations to remain secure and compliant.
With the latest database releases, you can remain at the forefront of innovation and harness the advantages of cutting-edge features, leading to potential cost reductions for your business.
We understand that the upgrade process can be daunting and risky, particularly if you lack an in-house technical team.
With our support, you can confidently navigate the upgrade process and harness the full potential of the latest Db2 software.
Let Triton take the risk for you.
Db2 Database Upgrade Challenges
Availability
Business critical databases need to be available 24/7 and the risk of downtime must be carefully managed during any version migration project. The availability of your data is of paramount importance. Therefore, we guarantee that all migrations occur with minimal downtime to ensure that your business continues to run without disruption.
Skills
Each new version has many new features and enhancements. DBAs need to have access to training to ensure they can effectively use their new tools and harness the benefits of their upgraded product. To address this, our comprehensive training programs empower DBAs with the knowledge and skills required to confidently utilise the new tools and maximise the advantages offered by each upgraded version
Time
Upgrade projects can often take longer than anticipated and use up valuable DBA resources. This can cause your team to miss project deadlines and lose valuable time. To mitigate these challenges, it's essential to implement efficient project management strategies, closely monitor progress, and allocate additional resources when necessary to ensure that upgrade projects stay on track and within the expected timeframe.
Performance Issues
When you upgrade to a new version of your database, it may still be necessary to change the way that certain queries are executed. We'll help troubleshoot any issues relating to the performance of your upgraded databases.
Data Loss
Data loss due to poor planning is one of the biggest obstacles to successful Db2 database version upgrades. It can be extremely time consuming and expensive to restore lost data. Triton will help you to mitigate the risk of data loss in complex database upgrade projects by providing a tried, tested and continuous process of upgrading.
New version education
We are often asked to present our customers with a concise overview of the new features available in a newer version of Db2. Our training sessions help DBAs understand the main differences between releases and ensure that they take full advantage of what the new version offers.
How Triton can help with Db2 Database Version Upgrades
When it comes to database version upgrades, choosing the right partner is essential. You will want expert consultancy that can help you get it right.
Our specialist Db2 skills mean that we can assist with any Db2 update project, and we will tailor our support to meet your exact needs. We offer a service that moves your database from older to newer versions without downtime.
Our team of experts is ready to guide you through your version upgrade project.
Take the first step.