Database Availability
Data sits at the heart of all organisations and without it everyday functions simply cannot be performed.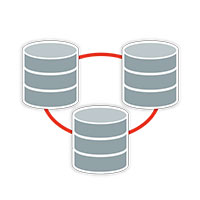 Whether your organisation is a large Fortune 500 or a SME, reliance on data availability is growing. It is vital to ensure that your organisations' Database Availability and Recovery procedures are robust, able to meet business SLAs and avoid the cost of database outages:
Lost Sales Revenue
Lost customers.
Reputational damage
Regulatory and compliance implications
HR implications
The Triton Consulting Database Availability service is designed to enable CIOs and IT Directors to ensure that their organisations' IT infrastructure can meet growing availability demands and take away the worry of failure.
Our Database Availability service covers three key phases
Phase one includes an initial analysis of your current database availability processes and procedures. From this analysis, Triton will provide a detailed report. This will take into account your business SLAs for uptime, solutions for data corruption, back-up and recovery, a detailed impact analysis will expose any areas of vulnerability and highlight risks in your existing system.
There are a range of different options and features available depending on your business requirements, budget and timescales. Based on the findings from our Phase 1 report and the solution recommended, the next stage is to design the availability solution in more detail. This will include detail on how the solution will fit in with your current environment, the associated costs and the implementation approach. After phase 2 you will have a detailed implementation plan for your availability solution with full cost details.
This is where Triton can bring in their team of experts to implement your chosen solution and work with you to ensure that your database availability plan meets all of your business requirements. Phase three is a detailed piece of technical consultancy. From the design through to testing and implementation our team will work closely with your in-house staff to ensure detailed knowledge transfer and support along the way.
Why Triton?
Sometimes it is necessary to get an independent, unbiased view of current processes and procedures to ensure that your systems are as stable, secure and efficient as possible. Triton Consulting is well positioned to provide this independent advice as we have many years of hard-won experience working with a range of clients. All of our consultants are Db2 experts with deep technical knowledge and experience. This is combined with the ability to work with C-level teams to provide real, quantifiable business results from better managing IT.

Db2 pureScale
Clustering technology that delivers continuous availability, unlimited scalability and application transparency.