Consultancy
High-quality information and database expertise in a hurry.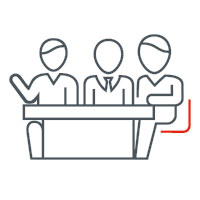 Knowing where to go for the best database consultancy and support is a key challenge for many organisations. Technologies are constantly being updated and it is increasingly difficult for busy IT departments to keep up to date.
Triton Consulting have been providing consultancy services for over 25 years, advising on a range of Data Management solutions from IBM and the major cloud vendors.
Internationally recognised for our expertise, Triton can boast five IBM Gold Consultants and six IBM Champions for Data and AI, with consultants certified on AWS, Azure, Google Cloud (GCP) and IBM Cloud platforms.
As well as expert consultancy in all areas of data management covering:
Disaster Recovery
Security
Upgrades
Database Support
Triton also covers a wider spectrum of high-level consultancy including:
Senior Project Management
Technical Planning
Technical Architecture
Cloud Migrations
Performance Tuning
Systems Programming
Find out how Triton's range of consultancy services could help your business. Get in touch.

Consultancy on Demand
Designed for clients who need varying levels of consultancy during the year