Application Modernisation
Moving an application between platforms in-house or to the cloud can save costs and improve reliability. But success depends on managing the migration process well.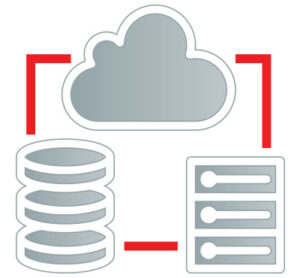 If you're currently running an application on an on-premise platform, you could realise many benefits by moving it to a cloud platform such as Google Cloud, Microsoft Azure, IBM Cloud or AWS. This is known as application modernisation.
Switching to a cloud solution means you no longer have the hassle of maintaining and managing an on-premise server. Your staff can access your application from anywhere, anytime, making it easy to work remotely or support multi-site operations. It's easier to scale up the hosting as you grow, and you'll probably be able to develop a stronger disaster recovery plan too.
So far, so good. But those benefits only arrive once you're actually in the cloud. To reach that point, you need to move your application from its current home to the new cloud platform.
To make the transfer successfully, you'll need to migrate all your business-critical data without loss or corruption, ensuring it's available throughout the process so your business can continue to operate as normal.
Most applications today are running 24×7, with huge volumes of data underpinning them. The ideal way to move them without adversely impacting existing production services is in advance. However, if you're migrating a platform for a critical application, keeping data current and minimising downtime is a bigger challenge.
So, how can you migrate large volumes of data efficiently, promptly and without losing any transactions?
At Triton, we specialise in helping clients modernise their applications by switching to a cloud platform – or a different on-premise platform – quickly and smoothly.
Although we are recognised experts in Db2, we also have skills in Google Spanner, AWS Aurora and PostgreSQL, among others.
Our application modernisation service will help you migrate data by reducing operational risks – during both the migration plan and the move itself.
With our help, you can complete your migration successfully while keeping costs down and ensuring critical services are available throughout.
Our four-stage modernisation service
We analyse your current system and determine your requirements for an effective cloud solution
We identify what your application needs – SLAs, security, backup/recovery, response times, etc.
We identify project issues as early as possible, and confirm your ROI on the project
We make a detailed plan of project tasks and timescales
We focus in particular on data migration and continuity of service
We identify key risks and activities along the critical path
We build the proposed cloud service and associated services such as backup/recovery
We carry out a full test of the system, including execution of the data migration plan
Finally, we carry out the cutover plan to deliver the application working in the cloud
Following migration, we offer ongoing support for your cloud-based application, including troubleshooting, maintenance, upgrades and enhancements
Why choose us?
We know data migration. We are proven experts in data migration, having played a key role in many major projects. If you're worried about business downtime, we can help.
We'll control cost. We'll help you minimise the financial risks of the move and make sure you realise the savings you're looking for.
You're in control. We'll work with you to put the processes and protocols in place to give you complete control over key software and hardware administrative tasks.
Serious about security. Cloud service providers implement the best security standards and industry certifications, but storing your vital data externally always opens up some risks. We'll review the database security standards to ensure they meet your required level of control.
Ongoing support. As well managing a smooth transition, we can also deliver ongoing management of your modernised database with our RemoteDBA and Consultancy on Demand service.
---

Our services will help you modernise your database applications to a new platform while controlling costs and reducing risks.
---