2021
Application Modernisation – a focus on data
Many firms are aiming to modernise their applications by moving them to the Cloud. The benefits can include lower costs, less on-premise infrastructure and the ability to 'spin up' new projects and applications more quickly.
However, when it comes to applications that process significant volumes of data on a 24/7 basis, switching to the Cloud also brings risks – and demands careful planning.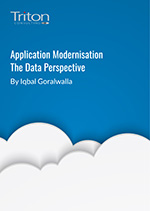 This new white paper from Triton takes a deep dive into application modernisation, with a particular focus on data management.
It's been created by Iqbal Goralwalla, our Head of Distributed Data Management. Iqbal is a highly experienced data management specialist, an IBM Gold Consultant and an IBM Data & AI Champion.
In the white paper, Iqbal sets out the four stages of application modernisation, breaking down the key tasks to be carried out and the most important factors to consider as you move through the process.
Along the way, he looks at crucial aspects such as validating backup requirements, building the Cloud database environment, developing detailed plans for data migration, safeguarding security during the move, workload testing before go-live and the options for managing cutover.
If you're considering moving a database application to the Cloud, this informative white paper is an essential read. Download the white paper here.
«
Previous
|
Next
»