2020
Consolidation of DB2 Editions – simplicity is the key
On 30th June, 2020 IBM officially launched the latest DB2 release, DB2 Nebula 11.5.4. During the past few weeks, the Triton midrange team has been exploring some of the new and exciting features that the new release has to offer. In the following blog series, we take a look at our feature highlights and include our initial first impressions.
In the first in our series Iqbal Goralwalla takes a look at Consolidation of DB2 Editions.
---
Consolidation of DB2 Editions – simplicity is the key
One of the highlights in DB2 11.5 for me was the simplification of the plethora of editions. From 13 editions and several charge metrics to just 3 editions (Community, Standard, and Advanced) and one charge metric. The icing on the cake however was all DB2 features are available in each of the 3 editions.
The editions are only restricted by hardware caps according to complexity of usage. Gone were the agonising days when I would recommend certain DB2 features to a customer, only to be asked ''is it available in our currently installed edition?'' And the answer would usually be "unfortunately not, you will have to upgrade to the advanced edition and that would incur an additional cost." Now, in DB2 11.5, one can leverage any [advanced] feature in any of the 3 editions. It even gets better. Customers on Workgroup Server Edition (WSE) prior to DB2 11.5 can upgrade to 11.5 Standard edition and leverage all advanced features which were only available in Advanced WSE (AWSE). Now, that is cool! And yes, the mind boggling feature matrix is a thing of the past.
The 3 DB2 11.5 editions build upon one another for complexity of usage. The upgrade process is simple and seamless. Users who want to scale beyond their hardware caps (for example, Community to Standard) can simply apply a license key against their existing DB2 installation:
In DB2 11.5.4, an additional Base edition has been introduced for small and medium sized workloads requiring up to 8 cores of processing power and 64 GB of RAM. Again, the highlight for me is, in line with the 3 editions introduced in DB2 11.5. The Base edition has all DB2 features and is fully supported. Like it!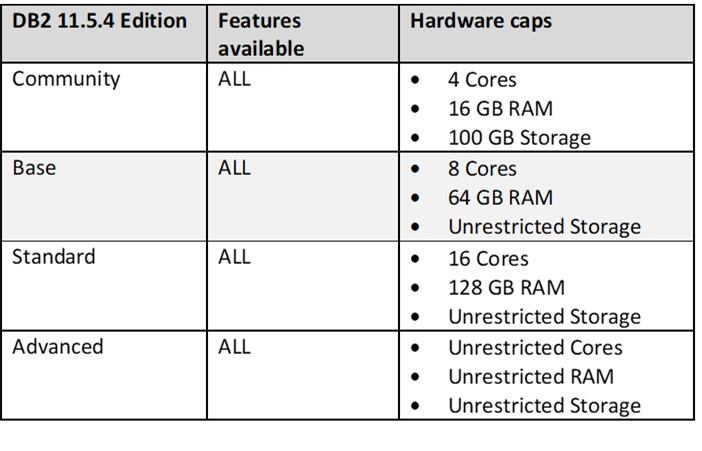 Read part two in the series by Damir Wilder on Automating HADR failovers with Pacemaker. 
«
Previous
|
Next
»