2018
Managing the Mainframe
For many large organisations the Mainframe is the workhorse powering business critical IT systems and services. Managing that beast is an immense task and one that can seemingly take ever more time and budget.
In this blog we take a look at some of the key concerns for CIOs who are grappling with the challenge of managing the Mainframe and how these challenges can be overcome.

Mainframe Costs
Costs always have been and probably always will be one of the key concerns for CIOs. In some recent research from BMC, IBM software costs came out as the number one challenge identified by its respondents. https://www.triton.co.uk/the-mainframe-is-growing-and-heres-the-proof/
Respondents in the survey also said that they could foresee some significant MIPS growth on the mainframe in their organisation. This means that many organisations are facing ever growing Monthly Licence Charges (MLC) from IBM. MLC fees can take up a major chunk of the overall IT budget.
Most mainframe software charges are based on peak CPU usage, so whatever your peak workload is in a given month is what you pay for. This means that one workload spike could push your
costs up significantly for that month.
"One of the most effective ways of reducing or containing mainframe costs is through
better management of CPU consumption. By identifying and taking control of your peak workload, ongoing software costs can be reduced and you may even be able to defer mainframe upgrades." Julian Stuhler, Solutions Delivery Director and IBM Gold Consultant – Triton Consulting
Managing performance and cost has become a significantly more difficult job with capacity planners and performance analysts being asked to defer hardware and software upgrades due to restricted budgets.
The Solution – Regain control of software charges
Triton can help you to regain control of your enterprise software charges by analysing your current environment and identifying opportunities to optimise and tune your critical mainframe workloads. How it works:
– Initial Analysis – Typically customers can reduce their peak CPU charges by a minimum of 3% with no performance impacts whatsoever and many customers can reduce their peak by 5% from this initial analysis.
– Workload Optimisation – The majority of Mainframe users have significant potential for further reducing resource consumption (and therefore costs) through optimisation and performance tuning of key workloads.
Find out more about Triton's Mainframe Cost Management Services  or download the Executive Briefing on IT cost reduction

Staffing and skills shortage
Staffing and skills shortages are a key concern for many Mainframe sites. It is widely accepted in the industry that many of the most skilled Mainframe workers are nearing retirement age.
There are more concerns coming to the fore when it comes to the IT skills shortage for the UK. Brexit is looming and with it comes a recruitment landscape which could see organisations finding it more difficult to bring workers in from EU countries. This may further limit an already diminishing resource pool. According to research by recruitment firm HIRED 70% of the UK's technology workers are considering a move to other EU cities.
The Solution – Flexible resourcing
We know that organisations need access to skilled Mainframe resources. With this in mind, Triton offer a range of flexible resourcing solutions; from traditional consultancy to a more flexible "consultancy on demand" service which lets you purchase blocks of hours to be used as and when needed.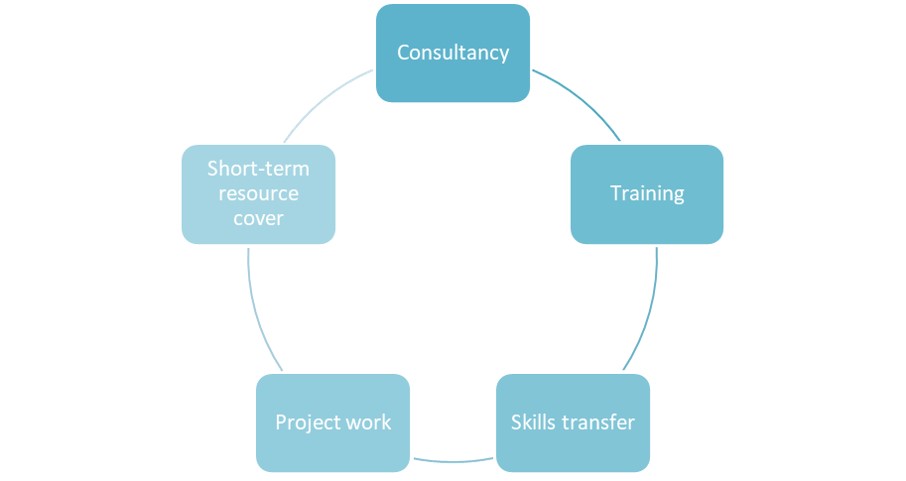 Training and skills transfer is a great way to manage the skills gap for the long-term. Triton's team of DB2 for z/OS consultants have been working on the Mainframe platform for many years and have built up a vast level of experience. We can work with existing staff to bring those Mainframe skills to your organisation.
Find out more about Triton's Flexible IT resourcing
DevOps for the Mainframe
The DevOps movement continues to grow at pace within the IT industry. DevOps promises shorter development cycles, increased deployment frequency, and more dependable releases, in close alignment with business objectives. There have been suggestions from some quarters that DevOps and Mainframe simply don't sit together.  In many people's minds Mainframe is still associated with older, more traditional IT practices. However, CIOs that are running Mainframe applications as part of their overall IT infrastructure simply can't afford to ignore the benefits that DevOps can bring.
Although many larger organisations have been slower to embrace DevOps practices, it is steadily building momentum. IBM has fully embraced Agile/DevOps principles internally which is has given us continuous delivery of new function for DB2 for z/OS (from V12 onwards). A cautious approach has meant that only a limited amount of new function has been released so far, but that will ramp up throughout 2018 as these working practices become better established within the DB2 development teams.
Back at IBM's customer sites, many mainframe developers are enthusiastically embracing DevOps practices, and the impact on traditional DBA and Sysprog/Sysadmin roles shouldn't be underestimated. With the right approach and suitable processes and tooling there is huge potential to reduce the amount of routine donkey-work and free up time for higher value work such as database design and performance tuning. Once again Triton is leading the charge, and we're working with several large customers to help automate the provisioning and administration of DB2 environments in order to improve agility and reduce time to market.
Mainframe for the future
With Mainframe workloads continuing to increase, the challenges of cost management and resourcing is only going to grow.
Triton can help you to ensure that your Mainframe is ready for the future! We have worked with many of the biggest Z series customers in the UK and Europe, and can provide skilled consultants for both long and short-term engagements. In addition to traditional DB2 and Mainframe consultancy, Triton also offer a wider spectrum of high level specialist skills including; senior project management, technical planning, technical architecture, performance tuning and systems programming.
«
Previous
|
Next
»