2019
Rotterdam IDUG EMEA Day #1
By Mark Gillis and Damir Wilder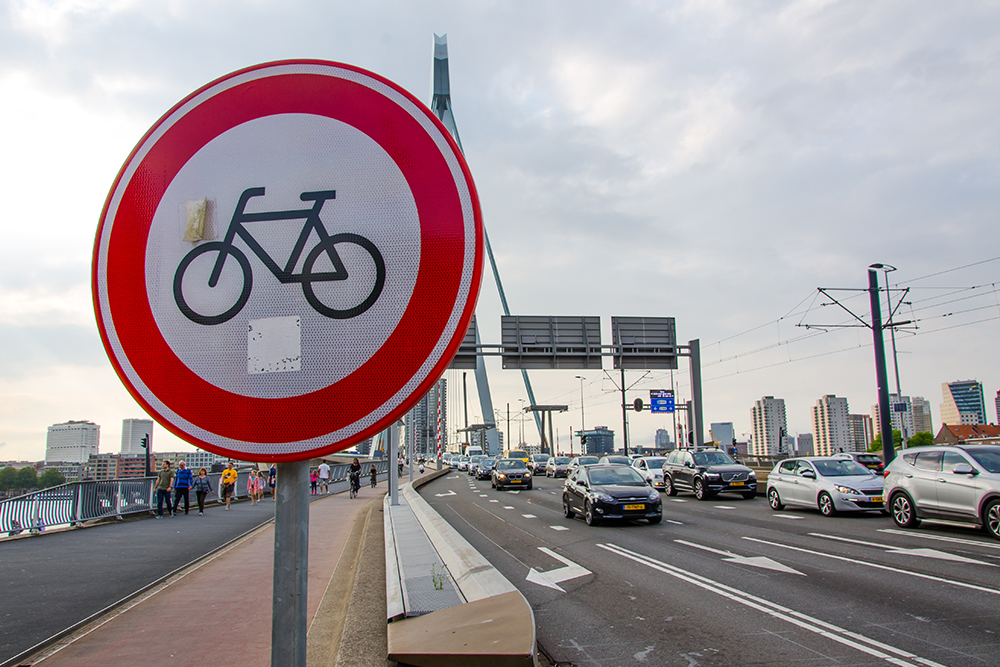 My usual route to IDUG EMEA is to fly in and then get a taxi to the hotel. Over the years these taxi journeys have varied between mildly alarming and downright terrifying, usually because my driver is trying to have a chat and point out local points of interest, rather than watching the road or backing off the accelerator at all. So, I was pleased to realize that the trip to the conference here in Rotterdam was a train from Amsterdam and then a quiet stroll down to Leuvehaven. Or so I thought. In the space of a 2 km walk I was almost taken out by half a dozen bikes, some yoof on skateboards, a small family on an electric scooter, a motorbike and a rather well-covered chap on Segway Ninebot, dressed as Spiderman.
I am now safely ensconced in the hotel after the first full day at IDUG and more or less in one piece. The over-riding theme(s) for this year are Artificial Intelligence and Machine Learning. The day started with Paul Zikopolous doing the keynote on "the AI tightrope" and then I managed to attend Piotr Mierzejewski on LUW Trends and Directions and Michael Springgay presenting on some of the new features of V11.5. This latter presentation included a number of features that the community and our customers have been asking for for a while (e.g. Schema level authorisations, DROP TABLE xxx IF EXISTS) as well as a swathe of performance improvements. Later that afternoon Calisto Zuzarte explained the inner working of the new Machine Learning based optimizer (which is available as a Tech Preview in V11.5, if you're interested). What is encouraging is that the AI and ML themes are no longer just abstract concepts; they are being presented as part of the core product. You can actually see them operating in the Db2 product as part of its features and functions.
This is only day one, so there's much more of this to come but it's great to be at an event where you finish the day more enthusiastic than you started and IDUG is easily hitting the spot for that.
So, it's been a full day and I've got my presentation out of the way too (technically mine and my colleague Damir's presentation, and he did a good deal of the donkey work for it), so I feel like I can relax a bit now. However, relaxing means stepping out of the hotel and experience so far suggests that this is going to taking my life in my hands again rather than relaxing, so we'll see how that pans out.
---
About: Mark Gillis – Principal Consultant
Favourite topics – Performance Tuning, BLU acceleration, Flying, Martial Arts & Cooking
Mark, our kilt-wearing, karate-kicking DB2 expert has been in IT for 30+years (started very young!) and using DB2 for 20+. He has worked on multi-terabyte international data warehouses and single-user application databases, and most enterprise solutions in between.
During his career Mark has adopted roles outside of the conventional DBA spectrum; such as designing reporting suites for Public Sector users using ETL and BI tools to integrate DB2 and other RDMS data. He has worked extensively in the UK, but also in Europe and Australia, in diverse industry sectors such as Banking, Retail, Insurance, Petro-Chemicals, Public Sector and Airlines.
Currently the focus of Mark's work is in Cloud migration and support, hybrid database enablement and providing expertise in exploiting the features and functions of Db2 V11.1 and 11.5.
View Mark's blogs and tech tips. 
---
About: Damir Wilder – Senior Consultant
Favourite topics – Performance tuning, HADR, mountain climbing, skiing and pretty much anything with a high risk factor!
Damir is a multi-talented DB2 expert and has worked with DB2 for LUW since V5.0.  With significant experience as a Database Administrator and Application Developer Damir has developed deep technical skills with database design and performance tuning.
As part of our DB2 Midrange team Damir works on both Consultancy projects and Remote DB2 support for a wide range of customers.
View Damir's blogs and tech tips. 
«
Previous
|
Next
»