2018
Six Reasons to Review your Database Availability – Part 3 Reputational Damage
From working with many customers to help keep their critical databases up and running we have come up with the top 6 reasons for putting Database Availability at the top of your priority list. In this blog we look at Reputational Damage:
Regardless of the old adage "No PR is bad PR" everyone wants to avoid a situation that could put their organisation in a position where they face customer complaints and damaging press coverage.
In May this year Visa had a major incident with card payment services across Europe. This caused major issues for millions of customers who were unable to pay for goods and services until the issues were resolved. It also generated thousands of column inches and Twitter posts:
Although this issue turned out to be a hardware failure rather than database related we can see how an unexpected outage can cause major reputational damage to an organisation.
In another high profile outage HSBC customers experienced issues with their online banking services in 2017. Once again we saw customers taking to social media to vent their frustration which caused major embarrassment for the banking giant.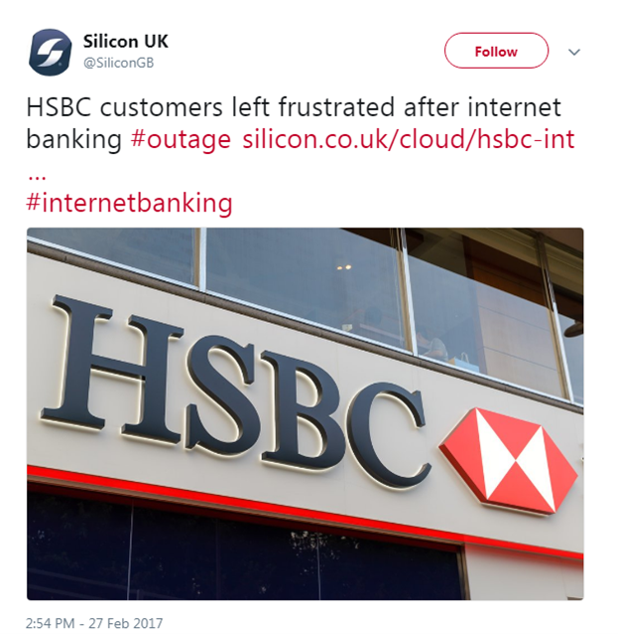 After an outage in 2016, in order to repair some of the reputational damage, HSBC vowed to waive charges for customers affected.
In May 2014 Adobe experienced a 27-hour outage in it's "Creative Cloud" suite, used by many organisations and individuals in the creative industry. The failure occurred during database maintenance activity. This left users unable to work and resulted in a backlash of bad PR for the company.
The last thing any organisation's PR department wants is to have to deal with a media storm with angry customers and endless questions from journalists. The fallout can be hugely damaging to an organisations reputation. Reputational damage is a serious issue which can cost time and money to repair.
Find out more in our white paper or take a look at our Database Availability consultancy services.
«
Previous
|
Next
»