2020
Successful 24/7 Database Management – Banish the Sleepless Nights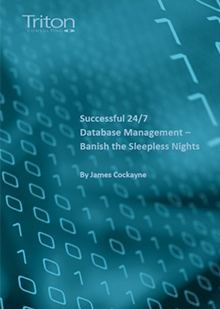 In his latest article James Cockayne, Principal Consultant at Triton Consulting gives us his views on key issues for DBAs, the newest active-active availability solutions and how a DBA can ensure they get their all-important beauty sleep!
Organisations face many challenges in delivering a stable, efficient database infrastructure. Even if you have skilled DB2 DBAs in house, covering a mission critical database 24/7 needs a serious amount of time, attention and skill. An outage during the day is bad enough. When supporting a 24×7 system failure in the middle of the night can be, literally, a nightmare for the DBA.
Ensure your DBA gets a good night's sleep every day.
Download Successful 24/7 Database Management – Banish the Sleepless Nights 
«
Previous
|
Next
»