2023
Bridge the IT Talent Gap and Strengthen Your Team
A recent survey conducted by Monster, one of the world's leading recruitment firms, has unveiled a stark reality for UK recruiters.
The study, Recruitment Survival Guide 2023, sheds light on a growing problem faced by 51% of recruiters in the UK – the struggle to find candidates possessing the essential skills required for specific roles. This issue highlights the expanding skills gap that threatens to impede the growth of businesses across various sectors. According to the report, 86% of recruiters are grappling with vacancies due to candidate skills gaps, with 70% of digital leaders finding themselves ill-equipped to keep pace with new technology, due to a shortage of tech talent.
As the technology sector continues to evolve, businesses in need of professionals like database administrators, cloud engineers, and IT managers find themselves confronted with significant challenges. Scaling up IT provision to meet skills shortages for specific projects. Failure to do so risks losing out to competitors, potential brand damage and disappointing customers.
When trying to manage a shortage of key IT skills, it can be hard to know where to turn for extra support, particularly when you are already busy juggling critical tasks.
Agility at Your Fingertips
For organisations struggling to identify, recruit, and retain skilled DBAs, Triton Consulting's flexible database services could be the answer. Our tailored services provide the support you need, whether for a short-term boost to overcome DBA skill shortages or for a long-term IT consultant.
Consultancy on Demand: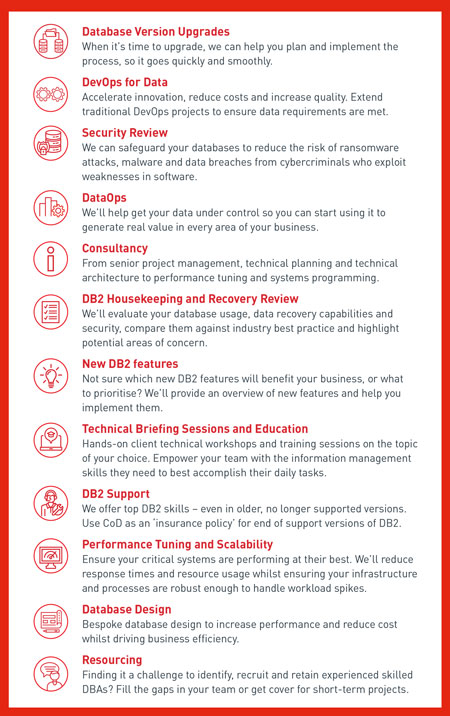 Consultancy on Demand (CoD) is an agile and flexible resource solution. With CoD you can rapidly access  Triton's team of data champions, scaling our team up or down based on your project priority or time frame.
You can use these hours for training, skills transfer, specific project work or for addressing your team's skills gaps and you only pay for the hours you use.
Download our guide to discover how consultancy hours can be used.
RemoteDBA:
With RemoteDBA Office or RemoteDBA Lite, organisations can benefit from expert DBA support for a fraction of the cost of a full-time Db2 DBA. Bringing in additional experts to support your database management team is especially cost-effective for smaller organisations that can't support a full-time internal DBA.
Bringing in a support organisation is a useful way to bridge the IT gap fast.
Start accessing unique in-depth database expertise on tap. Contact us for more information.
«
Previous
|
Next
»