2022
Think you can't afford expert database consultancy? Think again
Every business can benefit from database support and consultancy, but not every firm can commit to a support contract. Our Consultancy on Demand service brings database expertise within the reach of every firm.
If you're anything like us, you've probably thought about joining a gym at some point. Christmas is long gone, and it's time to lose those extra pounds. But what if you're feeling a bit less inspired when May comes round? Your membership fees will be money down the drain.
We often hesitate to make purchases – even those that would help us – because they require an upfront commitment. A service may offer benefit to your business, but if it's hard to predict demand over the longer term, you may not be able to justify the expense. As a result, you never get those benefits at all.
IT support is a case in point. There are dozens of providers out there who can certainly offer deep expertise and valuable insight. But that doesn't necessarily mean that a regular support deal makes financial sense for your firm – particularly if you're an SME, or you're not sure what the next few years will bring.
Fortunately, database support and consultancy doesn't have to be like that.
Introducing Consultancy on Demand
We designed our Consultancy on Demand (CoD) service especially for clients whose need for database support varies during the year.
It's a flexible hourly support plan that gives you rapid access to our team of data experts, whenever you need it.
You get unique in-depth database expertise and skills on tap, but without the commitment of a monthly consultancy fee or framework agreement. So you can maintain all your information systems while still keeping a firm grip on costs.
CoD scales up or down as you need it. If you have a high-priority project or a short timescale, our experts can step in to help you hit the deadline. Then, when things return to normal, your in-house team can take the reins once more.
How it works
First, you buy a block of consultancy hours – from as few as 20 up to 100 or more. Then you call off your hours as and when you need them.
You only pay for the time you use. If you need more hours, you can buy a top-up batch whenever you want.
Because CoD is pre-purchased, you don't have to go through a procurement process every time you need support. The hours are waiting for you 'in the bank' until you need them.
CoD is only available in regular office hours, but if you need round-the-clock support, consider our RemoteDBA service.
What you can do with CoD
You can use your CoD hours for training, consultancy or development work, or to fill gaps by bringing in specific skills that you can't cover with your in-house team.
Some possibilities are:
Consultancy. This can include senior project management, technical planning, technical architecture, performance tuning and systems programming.
Database recovery reviews. We'll evaluate your data recovery capabilities, compare them against industry best practice and highlight potential areas of concern.
Security reviews. We can safeguard your databases to reduce the risk of cybercriminals exploiting software vulnerabilities to target you with ransomware attacks, malware, and data breaches.
Database version upgrades. When it's time to upgrade, we can help you plan and implement the process so it goes quickly and smoothly.
DB2 support. We offer top DB2 skills – even in older, no longer supported versions.
DevOps for Data. Extend traditional DevOps projects to accelerate innovation, reduce costs and increase quality.
DataOps. Get data under control and start using it to generate real value in every area of your business.
Training and technical briefings. Hands-on client technical workshops and training sessions on the topic of your choice.
New database features. We'll provide an overview of new features and help you implement them.
Performance tuning and scalability. Ensure your critical systems are performing at their best and scale beyond expected traffic spikes.
Resourcing. Fill the gaps in your DBA team or get cover for short-term projects.
Database design. Bespoke database design to increase performance and reduce cost whilst driving business efficiency.
Database health checks. Maximise performance and minimise resource use so you can get the most from your databases.
Database housekeeping. A review of your database usage, security, database recovery, maintenance backup procedures to ensure they are up to standard.
With so many options, you can be sure that there will always be a valuable and productive way to spend your hours.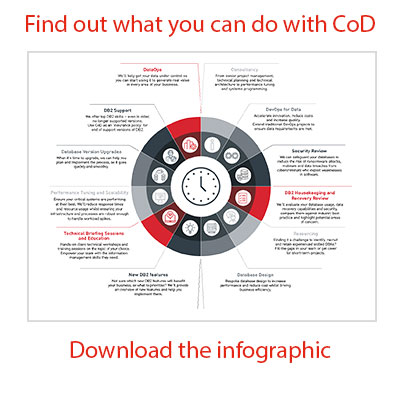 What CoD covers
CoD is available for:
DB2 on Linux, Unix, Windows and z/OS
PostgreSQL
MySQL
AWS
Azure
Crucially, CoD is available on all versions of DB2, including those which are officially out of support with IBM (V11.1 or older).
This is a lifesaver for clients who find that they can't avoid using older versions of DB2, for whatever reason. (Some even discover some old DB2 in their systems that they didn't even know they had.)
CoD functions as your 'insurance policy' for older versions, so you don't have to worry about the risk of issues arising with unsupported versions.
Interested?
To learn more about CoD and how it could help you, call us on +44(0)870 2411 550 or contact us here.
«
Previous
|
Next
»