2020
Triton Consulting Launch Application Replatforming Service for DB2 Platforms
Triton Consulting, experts in hybrid data management and transformation services, have today officially launched their Application Replatforming service.
The service has been designed to address the key challenges of moving DB2 applications to a new platform, either on-premise or to the cloud.
Application Replatforming will help organisations plan, implement and significantly reduce the operational risks associated with the complex migration of DB2 applications. Triton's service will ensure clients are able to successfully complete the move whilst controlling costs and maintaining availability of critical services.
Triton understands that moving the data is key to the success of the project. Most companies have applications running 24×7 with large volumes of data underpinning them. Moving applications to a new platform can be straightforward, however, migrating platforms for critical applications is a greater challenge. Keeping data current, downtime to a minimum whilst ensuring a seamless move is a daunting prospect. Triton's service focuses on reducing the risk and avoiding business disruption commonly associated with replatforming.
Triton's Application Replatforming service is delivered in four distinct phases:
Validate
Migration Plan
Build, test, cutover
Support
"I am delighted to be announcing the launch of our new Application Replatforming service. Our recent experiences vary from in-house migrations in the case of Pulsen Retail, to moving applications to the Cloud whilst decommissioning on-site servers, as in the case of Hermes, the consumer delivery specialist. In all cases, careful planning and employing an experienced team to help deliver the project proved invaluable to our Clients." Iqbal Goralwalla, Head of Distributed Data Management.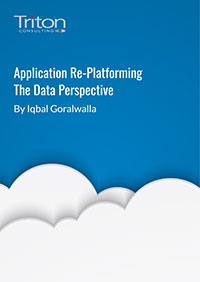 Find out more about Application Replatforming or download Application Replatforming – The Data Perspective by Iqbal Goralwalla.
As well as providing the skills to ensure a smooth transition, Triton also provide services for the on-going management of a client's replatformed database – 24/7 remote support and Consultancy on Demand.
---
About Triton Consulting
Triton Consulting are experts in Hybrid Data Management and Digital Transformation. The company's team of consultants represent some of the most highly experienced and qualified in the industry. Triton are able to advise on a range of Data Management solutions including DB2 for z/OS and LUW plus data related infrastructure and transformation services.
As well as expert consultancy in all areas of DB2, Triton Consulting also cover a wider spectrum of high level consultancy including: senior project management, technical planning, technical architecture, performance tuning and systems programming.
Triton Consulting has been providing consultancy services for over 24 years. Triton Consulting are internationally recognised for their DB2 expertise with three IBM Gold Consultants and four IBM Champions.
Find out more about Triton Consulting
«
Previous
|
Next
»